UNITED POULTRY GROWERS ASSOCIATION
An independent voice to answer your interests.
United Poultry growers association
News & Updates
U.S Senator Johnny Isakson address UPGA
FAKE CENSUS TAKERS VISITING POULTRY FARMS
IMPORTANT INFORMATION:
Fake Census Takers Visiting Poultry Farms
IMPORTANT INFO PROVIDED BY THE GAC:
There have been previous reports from Indiana and Oklahoma of people posing as United States Census takers visiting poultry farms while attempting to take photos of the farm operations.

We just received notice that a Georgia broiler farm was the subject of a similar attempt. The grower in this case appropriately denied access to the fake Census Takers and requested that they leave the farm immediately.
While these "workers" did not identify who they truly work for, it is believed that they are employed by anti animal agriculture organizations. We ask that you warn other poultry growers as well as dairy farmers that this has been happening and advise them on how to handle this situation.
Here is some helpful information from our friends at the Animal Agriculture Alliance (https://www.animalagalliance.org):
"If you are visited by someone from the Census Bureau, here are some ways to verify the individual is a Census Bureau employee:
The field representative will present an ID badge that includes:
· Their name
· Their photograph
· A Department of Commerce watermark
· An expiration date
· A field representative will be carrying an official bag with the Census Bureau logo or a laptop for conducting the survey.
· The field representative will provide you with a letter from the Census Bureau on official letterhead stating why they are visiting your residence.
· Field representatives conduct their work between the hours of 9 am and 9 pm, local time.
· Upon request, the field representative will provide you with their supervisor's contact information and/or the phone number for your Census Bureau Regional Office. The Regional Office supervises the activities of all field representatives in your area.
If you wish to independently confirm that the person at your door is a Census Bureau employee, you can enter their name in the Census Bureau's staff aearch website (https://www.census.gov/cgi-bin/main/email.cgi), or contact the Regional Office for your state (https://www.census.gov/about/regions.html)."
U.S. Senator Johnny Isakson
As a lifelong Georgian who grew up helping on my grandparents' farm and as a public servant who has had the honor of looking out for our state over the last 45 years, I've been proud to do all I can for the number one economic driver in our state: agriculture.
Today, our Georgia Grown marketing initiative has made our state products more popular than ever. The roots of our long-term success belong to the "P's" that have shaped our state: peanuts, peaches, pecans and of course, poultry. The poultry industry has built families, farms and economic centers across our state thanks to hard work and smart investment.
If Georgia were a country, we would be the seventh largest broiler producer in the world. According to the National Chicken Council's most recent data, broiler chickens alone account for 47% of Georgia's agriculture sales – almost $4.5 billion – and that's not counting eggs!
Chickens are serious business, and I'm incredibly proud of the progress we've seen within the chicken industry, especially considering the obstacles we've faced throughout my time in the U.S. Senate.
When I joined the U.S. Senate in 2005, it quickly became clear that our poultry producers needed help.
South Africa represented one of the largest potential markets in Africa for U.S. poultry. However, after the original enactment of the African Growth and Opportunity Act in 2000, South Africa began imposing antidumping duties on U.S. poultry products, effectively slamming the door shut on American chicken. The duties were based on a pricing system that values all parts of the chicken equally, which is neither accurate nor commonly accepted.
As Senator Chris Coons of Delaware and I worked together on a variety of issues in the Senate Foreign Relations Committee, we also found that chicken is a great bipartisan issue.
So in 2013, Senator Coons and I started the Senate Chicken Caucus to tackle some of these problems together, and we have seen some important victories as we've worked to ensure poultry farmers are treated fairly at home and abroad.
As part of the 2015 reauthorization of the African Growth and Opportunity Act, the United States Trade Representative was required to specifically review South Africa's eligibility, including its trade practices. The anti-dumping duties on U.S. poultry were a key part of this review.
In June 2015, we announced that the American and South African poultry industries reached an agreement to end South Africa's duties on U.S. poultry, thanks to negotiations led by the U.S. Trade Representative, the U.S. Department of State, then-U.S. Ambassador to South Africa Patrick Gaspard and trade experts from the industry.
In February 2016, the first U.S. poultry in more than 15 years arrived in South Africa. The agreement has been successfully implemented, and our U.S. product is part of the market.
We built this successful case after the World Trade Organization ruled in 2013 against China in an almost identical system of antidumping duties imposed on U.S. poultry, offering a precedent in our case.
As a member of the Senate Finance Subcommittee on International Trade, I have also been working to open up China and India to U.S. poultry.
In October 2014, the World Trade Organization ruled in favor of the United States in a dispute challenging India's ban on various U.S. agricultural products, including poultry meat, eggs and live pigs. The panel agreed with the United States that India's ban breached numerous international trade rules, including the fact that it was imposed without sufficient scientific evidence. By mid-2018, thanks to pressure from the U.S. government and support from the World Trade Organization, India began accepting U.S. chicken imports.
Ahead of a review of our trade practices with Mexico and Canada during the renegotiation of the North American Free Trade Agreement (NAFTA), we reached out to U.S. Trade Representative Robert Lighthizer urging him to use this process to break down unfair trade barriers and improve market access for American poultry farmers, processors and exporters. If enacted, the announced U.S.-Mexico-Canada Trade Agreement (USMCA) would expand U.S. market access to our top trading partners.
I have also been proud to support poultry health research. In 2014, I was proud to secure a $45 million upgrade for the world-leading Southeast Poultry Research Lab, based in Athens, Georgia. In 2017, I was thrilled when the U.S. Department of Agriculture awarded the laboratory $141.5 million for further renovations and campus expansions.
I've been very proud to work with the members of the United Poultry Growers Association on behalf of this critical industry. Without your ongoing support, we would not have seen the success we've been able to achieve.
I grew up in South Georgia, spending most of my time picking butterbeans on my granddad's farm. Agriculture is in my blood. At a young age, I was taught the importance of agriculture not just to our state's economy, but to American families across the country. And now, agriculture is a big part of what I do in Washington as the Representative for Georgia's Eighth Congressional District in the United States Congress and a member of the House Committee on Agriculture.
My granddad always said the old adage "you should thank a farmer three times a day," and most of the time, I thought of the farmers, like my granddad, who harvested row crops or peaches. But many often forget that the "Peach" State has led the country in broiler production for the past 25 years.
As the amount of poultry consumed around the world has risen 30 percent over the past 15 years, Georgia's top achievements in poultry production make our state a vital component to future production as a source of new innovation to keep up with the demand. A shortage in poultry production, a vital source of protein around the world, could have catastrophic effects in a world whose population is expected to reach 9 billion in roughly 30 years.
Additionally, as the average age of farmers is drastically increasing at the same time as population growth is requiring more food, so too does the need to engage young Americans not only in the agriculture industry, but also in the science and technology industries as innovators in agriculture science to help us produce more with less. Leading the nation, and arguably the world, in these efforts is the Department of Poultry Science in the College of Agricultural and Environmental Sciences' (CAES) at the University Of Georgia (UGA).
Poultry scientists from CAES have made great strides in improving feed efficiency, poultry well-being, and production in a 21st century world. With the knowledge that millennials today will become our farmers tomorrow, professors employed the one tool they knew all of these young producers would have - a smart phone.
Assistant Professor Justin Fowler's smartphone app, FeedMix, is a resource for small farmers and poultry producers that allows for the maximization of flock health and growth by displaying a recommended ratio of feed mix to feed flocks based upon users' data input.
FeedMix follows the app, CHKMINVENT, as the Department's second app designed for farmers. CHKMINVENT makes it easy for poultry producers to calculate the estimated minimum ventilation rate required to remove moisture from their poultry houses during cold weather conditions.
In the last 50 years, research has significantly decreased the time required to grow a meat-type chicken to a market weight from 100 days to 45 days, and it has led to similar strides in egg production and poultry health. In Georgia, we see the economic impacts of this kind of research with thousands of jobs and millions of dollars added to the economy across the state that is directly tied to poultry production. Additionally, the work done in Georgia by our research institutions, like the Department of Poultry Sciences at UGA, and our poultry producers who embrace their innovation makes a global impact.
That is why I joined my colleagues from Georgia in working to secure full funding for the U.S. Department of Agriculture's Southeast Poultry Research Lab, located at UGA. The lab's research on solutions to combatting poultry diseases, like avian influenza, that could be catastrophic to producers and consumers alike is utilized and implemented across the world. As a legislator on the House Committee on Agriculture, I understand the valuable role the federal government plays in targeting research dollars. However, I also understand the impediment that the federal government can be. Therefore, I am also leading the charge against inadvisable and overreaching government regulations that would harm the poultry industry in Georgia and across the country, including the recently proposed rule on organic poultry production and the Environmental Protection Agency's Waters of the United States rule.
It is an honor to represent the state of Georgia, our Agriculture industry, and our world class poultry growers in Congress.
Court Sides with Producers, Against EPA Overreach
In September, the, the 8th Circuit Court of Appeals found that the U.S. Environmental Protection Agency (EPA) had "abused its discretion in deciding" to release personal information about livestock and poultry producers under a Freedom of Information Act (FOIA) request from three environmental organizations. It's a blow to activists and the federal government's efforts to invade producers' personal privacy.
Reversing a federal district court in Minnesota's ruling, the 8th Circuit also found that "EPA here is more than simply a second source for identical, publicly available information. The agency has aggregated vast collections of data from the majority of states—much of it obtained through state specific information requests—and provided it to requesters in a single response." The court further objected, saying "CAFO owners still have a privacy interest in preventing the mass aggregation and release of their personal information by the government." The matter is now sent back to consider the request for relief from American Farm Bureau and National Pork Producers.
Vilsack Says GIPSA Poultry Rules Coming Soon
Secretary of Agriculture Tom Vilsack told the National Farmers Union in September that USDA plans to adopt final livestock and poultry standards rules prior to the end of the year. While providing no specifics, growers should take heart that Secretary Vilsack said his department is pressing forward on a new Grain Inspection, Packers and Stockyards Administration (GIPSA) rule to protect poultry farmers from retaliation by processors. Congress blocked the legislation through the appropriations process, but that provision was stricken from the FY 2016 omnibus appropriations bill prior to passage, prompting the department to move ahead.
When It Comes To Poultry Research, Georgia Rules The Roost
By Senator David Perdue (R-GA)
Agriculture has a special place in my heart. Growing up in Middle Georgia, the importance of hard work was engrained in me early in the classroom, and on the fields of our family farm.
Agriculture is also the single-largest industry in Georgia, contributing over $70 billion annually to our state's economy. Of that, more than $25 billion comes from poultry production, making Georgia the top broiler-producing state in the country. In fact, if the Peach State were a country it would rank 7th internationally, only behind the United States, China, Brazil, India, Russia, and Mexico.
There is no denying the important role the poultry industry plays in our state's economy, which is why it is imperative our producers take the threat of infectious diseases like avian influenza very seriously.
Historically, avian influenza occurred naturally in migratory waterfowl and is spread through direct contact with fluids from infected birds. The United States Department of Agriculture (USDA) categorizes avian influenza by threat level: low-pathogenic avian influenza, which may only cause mild illness in domestic birds, and highly-pathogenic avian influenza, which causes severe disease and high mortality among domestic birds.
While avian influenza has not been contracted in Georgia, state partners first made initial preparations in 2004 with the development of a response plan. This plan is reviewed and tested by tabletop and field training exercises multiple times a year.
If something similar to the 2015 outbreak in 21 states – which resulted in the loss of millions of chickens and turkeys – were to occur in Georgia, it could rack up to $38 billion in economic damages.
Fortunately, Georgia is a leader in agriculture innovation, affording our poultry farmers with cutting-edge research and preventative options. Leading this effort is Dr. David Swayne, a renowned avian influenza expert and Director of the National Poultry Research Center in Athens, Georgia. Last year, I invited Dr. Swayne to speak to the Senate Agriculture Committee about the research he is working on to prepare Southeastern farmers for potential outbreaks.
For fiscal year 2015, Congress provided $45 million towards the replacement of the Southeast Poultry Research Laboratory located in Athens. The laboratory is USDA's major facility for conducting research on exotic and emerging poultry diseases. This research provides regulatory agencies, such as USDA, the Food and Drug Administration, and the Centers for Disease Prevention and Control – as well as the industry itself – with improved intervention strategies against poultry diseases. The poultry industry accounts for nearly half of all farm income in Georgia, so the importance of these efforts to our state is apparent. The lab's work goes beyond our state's borders, too, impacting the entire poultry industry across the nation.
Our poultry community works closely with experts like Dr. Swayne, our state Agriculture Commissioner Gary Black, and the Georgia Poultry Laboratory Network (GPLN) to prevent the spread of avian influenza. In fact, every flock raised in Georgia is tested at GPLN—that's about 1 million birds a year.
Undoubtedly, preventing contact with the disease is the most important step in preventing an outbreak, and Georgia farmers are working hard to keep their flocks healthy.
Poultry producers follow key preventative measures to protect our state's leading agriculture commodity. Farmers have adopted biosecurity practices and participated in continuing education programs outlined by the USDA and industry partners. The "All In or All Gone" partnership has joined with 11 states to share information and updates about potential avian influenza outbreaks.
Additionally, our poultry producers are active in the GPLN, which is not only the first line of defense to stop an infection from becoming an epidemic, but also where our state's response plan is being coordinated should an emergency arise. The lab routinely practices how to respond to an infection—from communication to the disposal of contaminated broilers.
Overall, these preparedness efforts have helped safeguard the poultry industry. While we prepare for the worst case scenario, we are fortunate in Georgia that Commissioner Black, and our poultry community, are taking every preventative measure possible to stop an outbreak so our state and nation can keep producing—and eating—more chicken.
Bio: U.S. Senator David Perdue is the junior senator from Georgia and serves on the Senate Agriculture, Budget, Foreign Relations, and Judiciary Committees. Previously, Senator Perdue was the CEO of Reebok Brand and Dollar General. Senator Perdue is currently the only Fortune 500 CEO serving in the United States Senate.
UPDATE: Avian Influenza/Biosecurity
By Robert M Cobb Jr DVM State Veterinarian Georgia Department of Agriculture
In 2014 and 2015, Highly Pathogenic Avian Influenza (HPAI) caused the largest animal disease event in the history of the United States. This disease outbreak cost over three (3) billion dollars nationwide, interfered with interstate and international trading of poultry and poultry products and identified weaknesses in disease prevention strategies. This outbreak identified and confirmed wild waterfowl as the reservoir for Avian Influenza viruses. It forced the establishment of improved biosecurity procedures, new testing capabilities, better epidemiology investigative techniques, more efficient quarantine, permitting, animal/product movement and depopulation procedures and helped bring regulatory and producer entities together to fight this Foreign Animal Disease.
Twenty-one states were affected in 2014/2015 and the outbreak involved all segments of the poultry industry – commercial, backyard/free range, captive wild birds and wild birds. Working together with USDA, states were able to eventually contain the outbreak and with hastily developed processes safely move poultry and poultry product. However, many countries prohibited poultry imports. These prohibitions ranged from the total ban of poultry from the whole USA to more localized prohibition such as affected states or counties. The restriction of movement was very costly and caused much disruption to all parts of the poultry industry.
In Georgia, leaders at the Georgia Department of Agriculture and the poultry industry worked together with multiple state and federal agencies to establish an emergency Incident Management Team (IMT) and develop emergency procedures, training, documents and agreements. Poultry importation requirements were made to establish Avian Influenza testing requirements for all poultry entering Georgia. Equipment and supplies were inventoried and new equipment/supplies purchased as deemed necessary. Logistic procedures were established, practiced and utilized to strategically locate equipment and supplies around the state. Robust IT and communication capabilities have been established. The Department continues to provide training on a regular basis for our IMT and work closely with the Poultry Industry and other state and federal agencies.
Working with the poultry industry, educational meetings were held with poultry growers, allied poultry industry businesses, law enforcement, Public Health, other state agencies and related interested parties all over Georgia to raise biosecurity awareness and provide helpful information and contact information. Biosecurity recommendations were made for outdoor poultry to minimize their contact with wild birds, especially wild waterfowl. Nationally, avian influenza testing of wild waterfowl is ongoing by USDA.
The result of the HPAI awareness campaign, preparation, educational meetings, training events and testing has been prevention of HPAI in Georgia. Not only has HPAI not been found in Georgia, but the increased biosecurity practiced by producers, vendors and poultry workers has reduced the incidence of all poultry disease. The grower education meetings and biosecurity awareness meetings seem to have stopped a five (5) year MS outbreak. The number of cases went from 5.4 per month in 2014 to 1.6 in 2016. This is the lowest number of cases since 2008. Continued biosecurity awareness and practice is essential to prevent Avian Influenza and maintain the low disease prevalence among our domestic poultry.
It is important to realize that Low Pathogenic Avian Influenza (LPAI) is found in the wild bird populations, especially water fowl, at all times as has been demonstrated by USDA wild bird testing. However, not until 2014/2015 had HPAI been found in the wild. Avian Influenza is classified by proteins on the surface of the virus – H and N. It is the H5 and H7 type viruses that are known to become highly pathogenic. LPAI causes a mild illness, but HPAI causes rapid widespread illness and death of susceptible birds. As happened in 2016 in Indiana, LPAI can mutate, or change, into HPAI. This small outbreak was quickly contained and eliminated due to prior planning and the use of good biosecurity.
Biosecurity is the key. We cannot prevent the Avian Influenza virus from coming to Georgia; however, by continued practice of good biosecurity at all times on our poultry farms, we can prevent the introduction of the virus into our domestic poultry. It takes a continuous effort by all aspects of our Georgia Poultry Industry. All poultry allied industries must practice good biosecurity when they come onto poultry sites – even relatives and the family dog must help.
Georgia has an established LPAI and HPAI response plan that is practiced and updated yearly. It is important to be prepared. Georgia is the number one poultry producing state in the country and as such must be the best prepared for disease prevention and control.
WHAT IS the UPGA?
The United Poultry Growers Association is an organization for broiler, breeder, pullet growers, financed by growers and working for growers throughout Georgia. UPGA serves as an independent voice to advance your interests.
UPGA also monitors policy issues that affect the poultry growers' bottom line and engages the legislative and administrative bodies that can impact them.
our mission
Our mission is to improve the economic and social well-being of contract poultry growers and their families. We believe we can achieve our goals through open, honest and sincere communication between the grower and the integrator. The result: more profits and long-lasting, positive relationships between all parties.
shaping public policy
UPGA has identified four key areas to shape effective public policy for poultry growers:
Government affairs
Public Relations and Communications
Research and Development
Political Action
WORKING TOGETHER
As a team gives us the clout to get the attention of legislators, the media and the public at large. That is why it is vital to organize and focus grower advocacy ... and why it is important to present ourselves in a professional – and consequently, credible – manner.
Message from UPGA President
It's full swing on the farm as harvest is in full bloom in my neck of the woods in Baker County. This time of year makes me reflect on the trials and tribulations I've experienced living and working on the farm these many years. While we've had good times and bad, this year the Good Lord furnished us with ample rainfall and good growing conditions. The blessings we received from hard work and a cooperative Mother Nature are not the only things we can rejoice in.
Agriculture has remained the number one economic sector in our state and has prospered. New investments in poultry research, education and extension have made us better growers. Our state taxes have been lowered for the first time in history, putting more back in our pockets.
Alas, we now face a real challenge before us as numerous members of the house and senate are retiring and all our statewide officers are either term limited out, or facing reelection challenges. This is where you have to make the concerted effort to stay informed and yes, involved, in the political process. Without a strong agriculture vote, Georgia could veer from its prosperous direction of the last eight years. Please read up on your local and statewide candidates and study their voting histories. The choices have never been more diametrically opposed. I for one am voting to continue the positive path Georgia has enjoyed. I encourage all growers to do the same.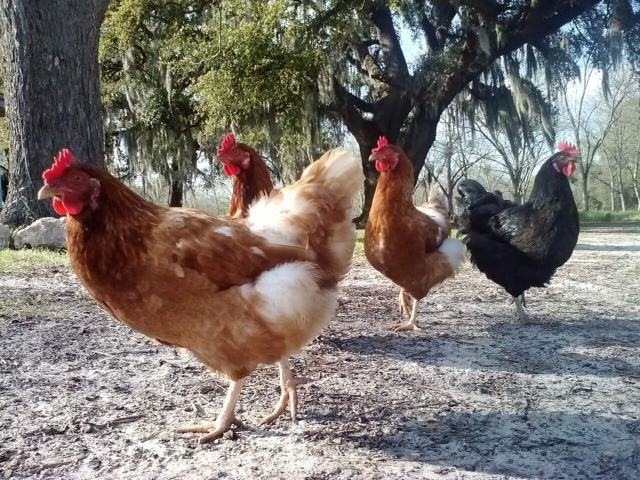 Interested in Contacting us or joining our membership? here's our contact info....